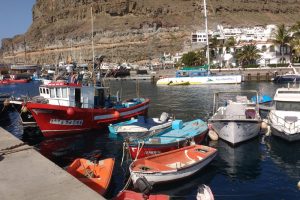 Todays fishing village of Playa de Mogán has a history of more than 200 years years, when fishermen settled here. The actual vacation area was build within the years 1983 to 1988 following a design proposal from Raphael Neville an artist, who moved to Mogán in the mid 60's.
Nowadays Puerto de Mogan has developed into probably the prettiest harbour in the Canaries. Canal-like channels linking the marina of the fishing and yachting harbour have led to it being nicknamed "Little Venice" or the "Venice of the Canaries".
The Valley of Mogán has a history dating back to prehistoric times. Archaeological sites in the valley have been "renovated" and can be visited.
There is also an impressive "Mirador" from where you can have a fantastic view all over the harbour, the beach and the Sea.
You will find a lot of restaurants and bars along with the marina and the beach front.
On a Friday there is a very popular market along the main road. Bus and ship traffic are bringing lots of people to this well known tourist attraction.
Lineas Salmon and Lineas Blue Bird (Glass bottom ferries) provide hourly traffic between the harbours along the coast.
All sorts of sport activities are supported and can be booked around the harbour.
(Car hire, bike and scooter hire, tennis, fishing, sailing, parasailing, diving, submarine adventure and others)

---